Factory Floor
Industrial HazMat Command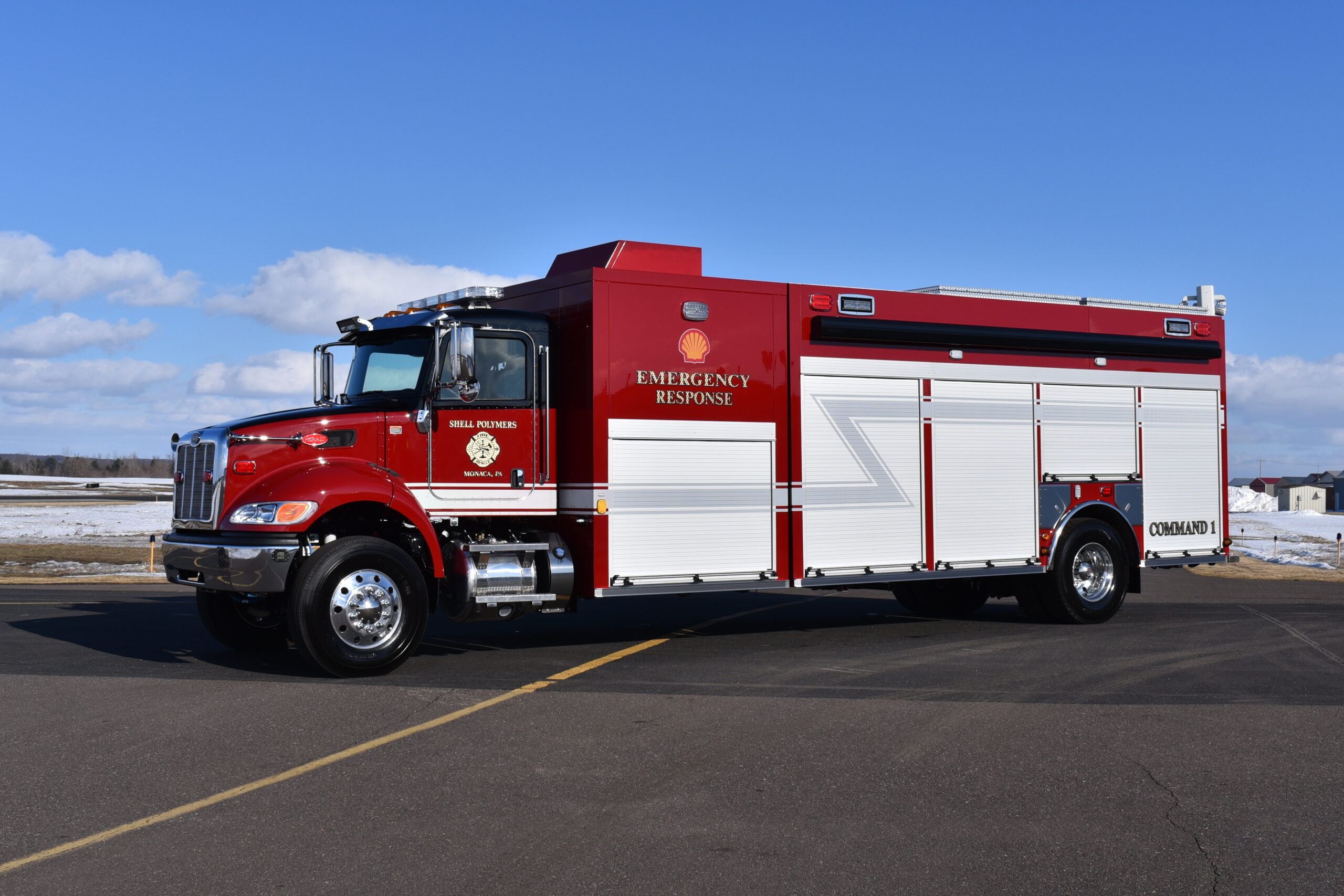 Industrial HazMat Command
Custom built for Shell Polymers Monaca
Quick Look
Truck Type: Hazmat Command
Chassis Model
Peterbilt Model 348 2-Door Chassis
305-inch Wheelbase/233-inch Cab-to-Axle
Front Axle 14,600 lb. Capacity; 14,600 lb. Leaf Springs and Shock Absorbers, Power Steering
Disc style Front Brakes, Cam style Drum Rear Brakes
30,000 lb. Capacity Single Speed Rear Axle, Reyco Multi Leaf 31,000 lb. Spring Suspension
Rear Axle, Differential Lock with Speed Interlock, 5.57:1 Ratio
PX-9 PACCAR Diesel Engine, 450 HP @ 2100 RPM, 1250 ft. lbs. Torque @ 1400 RPM
275-Amp Alternator, Three (3) Optima DT31T 12V Batteries, 2700 CCA, Under-Hood Battery Jumper Terminals
2-Speed Engine Fan Clutch, 18.7 CFM Air Compressor, Jacobs Engine Brake
Right Hand, Under-Cab Muffler, Single Horizontal Exhaust Ahead of Rear Wheels
Allison model 3000EVS-P Automatic Transmission
Bendix AD-IS Air Dryer w/Heater, Rapid-Air Build-Up for Fire Service
Front Tires Michelin 12R22.5 XZE, Rear Tires Michelin 315/80R22.5 HDN2 "Grip"
Front 2-Wheel Rims 22.5x8.25, Rear 4-Wheel Rims 22.5x9.00, Alcoa Polished Aluminum
50-Gallon Polished Aluminum Left Side Under-Cab Fuel Tank, DEF Tank LH Under-
Chrome Plated Steel Front Bumper, Two (2) Tow Pins
Aluminum Cab, 110-Bumper-to-Back of Cab, Severe Service Cab
NFPA Compliant High Back Air-Ride Driver Seat, High Back Air-Ride Officer Seat, Red Seatbelts
Adjustable Steering Column with Tilt-Telescope Steering Wheel, Electric Windshield Wipers
Interior Trim, Gray/Black, NFPA Handrails, Day Cab Rear Window Opening for "Pass-Through" to Command Cab
One-Piece Curved Windshield, Power Windows, Power Door Locks, Over-Windshield Polished Stainless Visor
Heated and Motorized Stainless Steel West Coast Mirrors, with 2-Convex 8-inch Mirrors under Mirror Bracket
Transmission Temperature Gauge, Air Restriction Indicator, Keyless Ignition Switch, Vehicle Data Recorder
Climate Control with Heating and Air Conditioning.
Apparatus Body
Stainless Steel Industrial HazMat Apparatus Body, Nine (9) Side and Rear Compartment Cavities
Stainless Steel Rear Tailboard/Bumper with Laser-Grip Top Surface
Under-Body ¾" Plate Tow Eyes
12-Gauge Type 304-Stainless Steel Fabricated Body with
All-Bolted Body Construction, Sweep-Out Stainless Steel Compartment Floors, Wheel Well Circular Liners
Under-Body Mid-Mount, Driver and Passenger Side C-III Winch Receivers, with 12VDC Quick-Disconnect Power
Under-Tailboard, Centerline C-III Winch Receiver, with 12VDC Quick-Disconnect Power Receptacle
9000 lb. Capacity 12VCD Winch with 125 ft. 5/16" Cable and 40-Foot Remote Control Cable
Tubular Stainless Steel Under-Body Sub-Frame, Rubber Torsional Isolator Attachment to Chassis Frame Rails
Filtered Interior Compartment Back-Wall Vents, with Removable Grilles and Replaceable Waterproof Media
Compartments D-1/P-1, D-2/P-2, and D-3/P-3 to be Fully Transverse, Accessible for Driver & Passenger Sides
Roll-Up Style Compartment Doors, Anodized Satin Finish
Roll-Up Door Bundle Protection; Stainless Steel Encapsulators
LED Strip Lights, Each Side of Compartment Openings, Full Height of Door Opening, Total of 18 each
Longitudinal Walkway, 28" Wide by 160", Overhead Compartmented Body, Between Cavity Pods
Passenger Side Walkway Landing, Stainless Steel Fold-Out/Drop-Down Rear Corner Climbing Ladder
Four (4) Double-Wall Cavity Storage Pods, Two (2) each side of Walkway, Hinged Treadplate Lift-Assist Lids
Transverse Recessed Treadplate Lined Light Tower Cavity, Ahead of Walkway
LED Lighting Strips: Beneath Storage Pod Lids, Full Length of Walkway
One (1) 18-foot Wide Power Roll-Up Surface Mounted Awning, Black Fabric
Four (4) Adjustable Height Heavy Capacity Compartment Shelves, Transverse Sleeves for Stokes & Backboards
Four (4) 1000 lb. Capacity Roll-Out Floor Trays, Two (2) 250 lb. Capacity Roll-Out/Tip-Down Trays
PAC Style Pull-Out Tool Boards, 3 cu. Ft. 120VAC/121VDC Refrigerator, Floor Dry Hopper with Under Body Chute
Three (3), 3-SCBA Bottle Compartments, 12-Bottles, 2-Driver and 2-Officer Side Wheel Wells
6000-PSI Cascade SCBA Bottle Fill System, Two (2) Bottle Containment System
Six (6) 6000-PSI ISO/UN Cascade Bottles Intra-Body Horizontal Bottle Storage
Electric Rewind High Pressure Breathing Air Hose Reel, High Pressure Regulator
20-Foot Telescoping Camera Mast with Color Video Camera, Anti-Collision and High Voltage Sensor
Special Features
Full Height Stand-Up/Walk-Around Style Command Cab, with Egress Door on Curb Side
Command Cab Constructed of 12-gauge Stainless Steel, All-Bolted Assembly
Interior Wrap-Around Command Desk with 2-Roller Command Chairs, and Line Voltage Receptacles
Magnetic Dry Erase Boards, Under-Desk Roll-Out Drawers, Under-Ceiling Wrap-Around Cabinets
2-SCBA Bucket style Seats, 1-Inboard-Facing and 1-Forward-Facing
2-Wall Mounted 32" Color Monitors, Joy Stick Control for Telescoping Camera Tower
Two (2) Lower Level 26" Deep Exterior Compartments Located One (1) Each Side.
Interior Sound Dampening Wall and Ceiling Liners, Overlaid with Carpet Covered Padding
LED Dome and Stepwell Lighting, Colored Night Vision Lighting
Climate control with Ducted 26,000 BTU heater/Automotive AC, Additional Line Voltage Roof-Top A/C
Automatic Deployment Under-Door Retractable Step Plate
Shore Air Inlet/Outlet Couplers with Matching Fittings
Two (2) Level Cab Entrance Steps Driver and Passenger Sides, Non-Slip Foot Surfaces
Underbody Air Tank Bleeder Panel, 6-Rotary Bleeder Valves
Air Intake Emergency Shutdown Valve, with Cab Dashboard Control
Coolant "Boost" 12VDC Centrifugal Pump, w/Cab Dashboard Switch
NFPA Tire Pressure Warning Devices, Tire Pressure Labels at Wheel Locations
On-Spot Rear Tire Chains, with Driver Control
Firecom Wireless Headset System, 3-Headsets Transmit Capable
Chassis Cab-to-Command Cab Pass-Through Opening
Command Cab Noise Level Testing
120-Volt Shoreline
120-Volt Gast Onboard Automatic Air Compressor
120-Volt Powermax Automatic Onboard Battery Charger
Onan 25,000 Watt Mechanical PTO-Driven Generator with FROG Control
100-Amp Manual Re-Set Circuit Breaker Panel
Electric Rewind 240V 4-Wire Line Voltage Cord Reel, with Two (2) 120V Circuits End Receptacle Box
Wil-Burt NS2.3, 3600 Watt Lift-Up/Folding Light Tower with Four (4) 900W Optimum Fixtures
Emergency Warning Devices
LED Emergency Lighting (in addition to Chassis Emergency Lighting): B, C & D Upper & Lower Whelen M6 Super LED
Electronic Siren with Dual Speakers, PA Function and Microphone
Dual Grover Chrome Trumpet Air Horns, with Dual Interior Cab Controls
Exterior Lighting
12VDC Power Distribution Center, Electrical Console, Emergency Switch Panel, Master Battery Switch
Vehicle Data Recorder, Seat Belt Warning System, Open-Door/Extended Device Dashboard Warning Light
Front Side Facing LED Cornering Lights,
Rear Tailboard LED Lighting, Rear Ladder Step Lighting, Compartment Interior LED Strip Lighting
Rear DOT LED Lighting; Tail, Stop, Turn, Back-Up, and Marker Light Fixtures
Back-Up Alarm, Camera with Monitor in Cab
Engine Compartment LED Lighting, Under Body (Side and Rear) LED Lighting, Under-Cab LED Lighting
LED Scene Lighting: 1-Cab Roof Brow, 4-Upper Squad Sides, 2-Upper Rear Corners, and 2-Below Awning